Yup, I'm still here. 🙂 Although the blog has been silent lately, the behind-the-scenes has been very noisy. So consider this my the-silence-means-I've-actually-been-productive update post.
First off, Benighted's sequel is still going strong. I've had to set myself a writing schedule due to just plain life getting in the way, and if I can keep the momentum, I'm hoping to finish it in about a month. *Insert happy dance here* Believe me, I want this book done more than anyone, mainly because of the pet project I have coming up. But seriously, Illusory is turning out phenomenal. And long. Very, very long. It's safe to say its double the size of Benighted at this point. 😛
As to the release date, if I can get this book finished in the time frame I want, most likely it would be released in early 2019. I hate setting deadlines, because we all know I fail at them, but I'm having a confident moment so why not just raise the standards up a few notches? 🙂 Besides, this story line is going to need some massive revising/editing/butchering just because of how much is going on, so releasing it around springtime should give us plenty of time to massacre the thing back into a decent, well-written plot. Seriously, did I mention this story is huge? I feel like I can't stress this enough.
But good news! As for that pet project I have sitting on the horizon, it involves a beautiful site called:
That's right, readers! I've joined Patreon! 😀 I'm not going to officially launch my Patreon page until Illusory is out of my hair, but I figured while you all are waiting for one story, why not create buzz for the next one?
While I'm still working out the kinks in between writing Illusory scenes, the overall concept of my Patreon is that the entire thing is themed around a novel that I'll be serializing. It's a Victorian gothic tale that involves a scary mansion, a haunted past, dark humor, and some psychological twists and thriller turns that I hope scares all of you instead of me. I'm a little Scooby-Dooish when it comes to scary stories, so taking on a haunted horror novel is going to be…eh…fun? We'll go with fun. *Gulps*
But the best part isn't the fact patrons will get to read the story as it's being written; they'll get to see all the behind-the-scenes inspirations and quirkiness that goes into making one of my stories, which will include photos and videos. The donations collected will go towards the final publication of the book, mainly shipping costs, since patrons will get to receive a final copy of the book as a thank you before it hits bookshelves everywhere. So if you don't feel like becoming a patron? No worries! Eventually you'll get to read the story, too, minus all the backstories and goofy inspirations. 🙂 Oh, and spoiler alert, the main male character in this story is going to have a very Tom Hiddleston feel to him. ❤ You're welcome.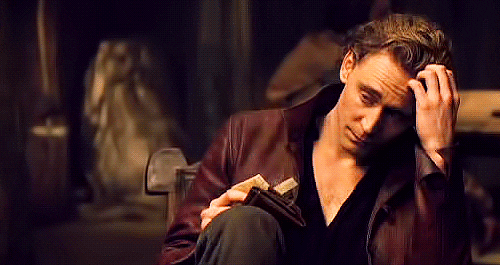 Yeah, Tom, I'd be nervous to be in my book, too. 😉
So as always, thank you so much for your support and for your patience regarding this sequel. It really means a lot to me, and I hope you look forward to what's in store as much as I am. 🙂 Stay reading, peeps! ❤